Welcome to the online home of Schoenberg Guitars!
We are two overlapping enterprises here at 106 Main Street in Tiburon, California. First, we are our own tradition-based Schoenberg Guitars, representing the very best of the hand-builder's art in sound-quality, playability & projection. And, second, we are the brick-and-mortar store where these and other great instruments are bought, sold, traded & repaired. Our unique inventory includes many of the finest vintage Martins & Gibsons available anywhere—even some one-of-a-kind museum pieces— as well as old & new guitars, mandolins, ukuleles & banjos, all from brand-name-makers and hand-builders. And we carry the best-sounding instruments we can! We cater to the experienced musicians looking for 'lifetime' instruments and, also, to the absolute beginner looking for an inexpensive yet playable entry-level one. In fact, we have outstanding instruments at all price levels, and these include a custom set-up! (We have a reputation for our great set-ups, done while you wait.) We also host in-shop concerts by world-class musicians & offer lessons from a first-rate instructor. And here, our online home, is the place to find all of our wares & information about our activities.
Please take a tour of our website and contact us with any questions. We update our inventory almost daily.
Also, if you check in the menu list (up on the left) under "Departments" you'll find our Archive Gallery, a listing of our sold instruments with photos & info. It's a collection of fascinating guitars and a useful history of the acoustic guitar, in some ways.
And here are some hints to help you with any of your searches.
Finally, we always have great 'starter' instruments for beginners in stock -- ukuleles start at $59 & guitars at $199, all with professional set-up included at no charge. You'll be surprised by the quality you get for so little money!
Thanks for dropping by!!
---
Our Newest Instruments
Soon to be listed
---
Mike Wollenberg & Julian Smedley in Concert in July
Saturday, July 23 at 8 p.m.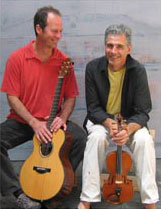 Mike and Julian play old standards in a new way – you hear every bit of a song's history in their "retelling" of old melodies. That's the nature of the history of jazz – innovation meets re-creation, all the while keeping the beauty of the tune. These two are masters, steeped in melody and looking for the inherent sweetness of the music they play. It's Julian on the violin and guitar -- he was a co-founder of The Hot Club of San Francisco and collaborator with Paul Horn and David Grisman. And there's Mike, who is the consummate fingerstyle jazz guitarist, best known for his live solo work and many CDs. If there is a moving bass line & a melody that's longing to be sung with an angelic voice, Mike will find these notes on the guitar and bring them together. And Julian & MIke? They have played together for years – and recorded together too – so we're in for an artful and soulful exchange of the currency of jazz. Generosity will be the word of the day!
"Mike Wollenberg is a magician of solo guitar . . ." Tuck Andress, of Tuck and Patti
Tickets are $20 in advance, $25 at the door
Call for tickets: 415-789-0846
---
Mary Flower in Concert in August
Saturday, August 20 at 8 p.m.
One of our favorite musicians, Mary works in the intricately syncopated Piedmont fingerpicking style and plays a deeply bluesy lap-slide guitar. But that makes her playing sound like work – when really it goes down like a mint julip on a hot day. She performs at many blues festivals and also on Prairie Home Companion, so you understand the company she's keeping. Critics rave about her husky contralto, her writing, her ragtime and her take on Memphis Minnie. As if this weren't enough, she's also the only woman ever to place twice in the top three at the legendary National Fingerpicking Guitar Championship. One critic has called her playing "restrained, but impeccable." And, finally, Mary is a wonderful teacher, making the most complex guitar pieces accessible to anyone with an interest in guitar. Come hear Mary -- she may well become one of your favorites, too!
"She's one of the nation's premier fingerstyle blues guitarists . . . " All-Music Guide to the Blues
"The reason Mary Flower has been able to make a living playing the music she loves is that she is the very essence of taste." – Sing Out
Tickets are $20 in advance, $25 at the door
Call for tickets: 415-789-0846
---
Sign Up for GROUP GUITAR or UKULELE lessons now!
JOE MILLER is offering the following group classes for adults & teens,
September – November, 2016.
Join the fun! Wednesdays at Tamalpais High School in Mill Valley:
ACOUSTIC JAM SESSION,7 – 8 PM
CONTINUING UKULELE, 8:05 – 9:05 PM
*************************************
Thursdays at Redwood High School in Larkspur:
MUSIC THEORY for GUITARISTS and other
STRING PLAYERS, 6 – 7 PM;
BEGINNING FOLK/POP GUITAR, 7 – 8 PM
BEGINNING UKULELE, 8:05 – 9:05 PM
This fall, all GROUP classes are offered through Mt. Tamalpais
Community Education. To see class descriptions, and to register,
please go to MarinLearn.com and type in Guitar, Ukulele, or Music Theory.
All group classes are 9 weeks for $195.
PRIVATE LESSONS are still offered here at the store on Sundays and Mondays;
for info please call Joe Miller at (415) 480-9618.
More info about Joe's teaching is at JoeGuitarMiller.com
---
Recommended Videos
* Julian Lage: The best guitar player in the world plays the best guitar in the world
* Check out this video of the Recording King Interview with Eric Schoenberg
* Eric performing his composition All In Good Time at the Schoenberg Guitars 20th Anniversary Concert.
* Eric playing Good Ship Lollipop on his 1929 L-5.
* Eric While My Guitar Gently Weeps, on his Schoenberg 0C Standard